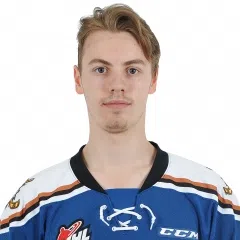 Forward Colton Kroeker is January's player of the month for the Kootenay ICE.
Kroeker earned 12 points in his first 10 games with the team but was surprised to learn of the honour.
He says it wasn't something the Lethbridge Hurricanes did and when he first heard about it, wasn't sure what to think.
Additionally, Kroeker was also named by the team as the first of three stars for the month of January.
According to their website, each month the ICE "…will compile a list of three star recipients from all home and away games. The top three stars at the end of the 2016-17 regular season will win the 3 Star Award."
Kroeker has been with the ICE for just four weeks, he was acquired January 9 from the Hurricanes along with Brett Davis, in exchange for Kootenay vets Matt Alfaro and Zak Zborosky.
He explains when he heard his name called it was of course nice to be recognized but credits the success to his linemates and team.
He adds, more than anything he's focused on helping the team be better.
He wasn't thinking about being named top performer and mostly has his mind on winning games.
He feels it's not something the team has succeeded at lately and they have to figure out a way to change.
The ICE are looking to capitalize on having home advantage throughout the coming weekend.
Saturday they host the Prince Albert Raiders and Sunday Kroeker and Davis will be reunited with their former teammates when the Hurricanes visit.
Kootneay ICE forward, Colton Kroeker –
– Keira O'Loughlin
(Image courtesy of www.kootenayice.net)