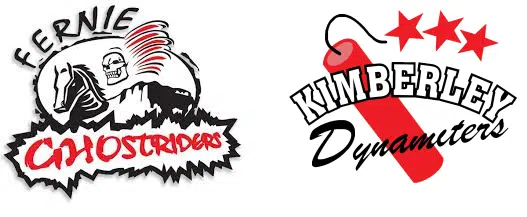 The Kimberley Dynamiters and Ghostriders will jump right back to action Tuesday in Fernie for game four of their opening playoff series.
The Nitros now trail 2-1 in the series after allowing the Riders to claw back to a 6-5 victory from a 4-0 deficit Monday.
Coach Derek Stuart believes the Nitros are the better team and just need to stick to their game plan.
He explains Monday's first period is a perfect example, explaining the Nitros' speed was too much for the Riders to handle.
Stuart feels Fernie doesn't like getting hit and when Kimberley was physical with them, they became frustrated.
He says if the Nitros play the same way, they expect the Riders to be undisciplined again adding, his guys are very excited to get going.
Nitros goalie Cody Campbell had an off game, allowing six goals on 24 shots Stuart explains, but he'll get the start Tuesday and if he plays like he can, they'll be in excellent shape.
Across the division the Columbia Valley Rockies will look to avoid elimination from the Creston Valley Thunder Cats.
The teams meet in Invermere Tuesday with the Cats leading the series 3-0.
Kimberley Dynamiters Head Coach, Derek Stuart –
– Keira O'Loughlin