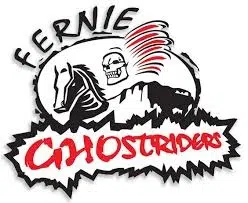 The Fernie Ghostriders had their post season hopes cut short by divisional rivals the Kimberley Dynamiters Friday.
The Riders won't move past the opening round of the playoffs after falling 4-2 in the best of seven series.
They were able to push the sixth and final match up to double overtime, but were closed out 3-2.
Coach Craig Mohr says his team's fight in the game was a reflection of their entire season.
This group wouldn't throw in the towel easily explains Mohr.
Just like they didn't quit all year Mohr adds, the team fought their way back from a two goal deficit in the game, tying it late in the third to give themselves one last shot.
He says he couldn't be more proud of them.
Mohr hates the end for such a special group but explains it's incredible to see how much they've grown in a year.
He believes some come in young and wide eyed and they're leaving after a great year and program full of life and confidence.
As sad as it is to see them packing up their stalls, Mohr feels it's very rewarding to watch how far they've progressed.
It was a whirlwind season for the Riders who battled through several injuries, most significantly one that ended the junior career of veteran, starting goalie Brandon Butler in December.
Mohr believes with Junior B hockey, you never know who will return for next season, but he's confident a great foundation has been built.
Fernie Ghostriders, Head Coach, Craig Mohr –
– Keira O'Loughlin