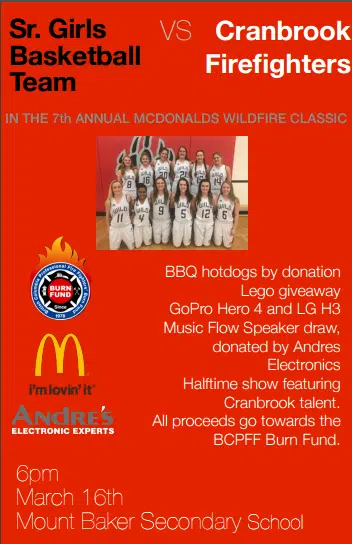 The 7th annual Wildfire Classic basketball game goes down Thursday at Mount Baker Secondary School.
The girls Senior Wild will defend their title against the Cranbrook Fire Department to raise money for the BC Professional Fire Fighters Burn Fund.
The girls are a perfect 6-0 in the charity game's history and CFD's Burn Fund representative Murray Robertson knows the reason.
He explains the Fire Fighters don't usually have a strategy ahead of time and rely on their height and the fact that they outweigh the girls.
Robertson says the guys look forward to the game every year and knows the girls relish beating them.
He adds, all of the fun is going towards a good and important cause.
Money raised goes to the provincial Burn Fund, an organization run by Fire Fighters focusing on providing burn survivor support.
Last year, the organization was able to open up the Burn Fund Centre, a place of refuge for burn victims and their families while in Vancouver receving treatment.
Admission is free to the Wildfire Classic with barbecue hot dogs available by donation and multiple prize giveaways.
Tip off is set for 6 pm.
Cranbrook Fire Department, Burn Fund representative, Murray Robertson –
– Keira O'loughlin
(Image courtesy of Murray Robertson)