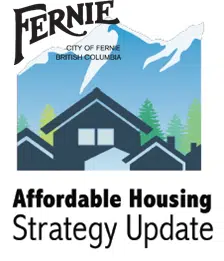 The City of Fernie is in the midst of updating its Affordable Housing Strategy.
The current policy turns a decade old in 2017 and renewing it is a short term priority in the Official Community Plan.
The City has hired a consultant to help collaborate on and develop the blueprint through a four stage process.
First a Housing Indicators Report will be conducted, followed by Community Consultations, a Housing Needs Assessment and finally, a new Affordable Housing Strategy.
Additionally, residents are being asked to participate in a survey so the City can gather input on the issue and discover how it affects the community.
To complete the survey click here.
Paper copies are also available at the Fernie Library, Seniors Centre and City Hall.
The survey closes on April 20.
– Keira O'Loughlin
(Image courtesy of www.fernie.ca)