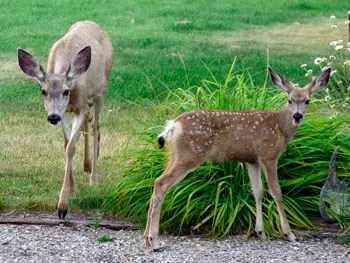 Cranbrook residents should give deer in the community a wide berth.
Fawning season is here and staff with the city warn does can act more aggressively over the next month if they feel their newborns are being threatened.
Communications Officer Chris Zettel says they've had reports of a deer chasing people with dogs in the area of Knox Presbyterian Church on Victoria Avenue.
"We're starting to see the odd complaint, but nothing too major yet," Zettel says. "Its really important that people be aware and if they have issues with wildlife, let the Province know."
Zettel urges residents to report any incident with deer to the conservation officer hotline at 1-877-952-7277 .
The city's bylaw enforcement or the BC SPCA only deal with domestic animals, not problem wildlife.
– Cranbrook's Corporate Communications Officer, Chris Zettel
– Jeff Johnson