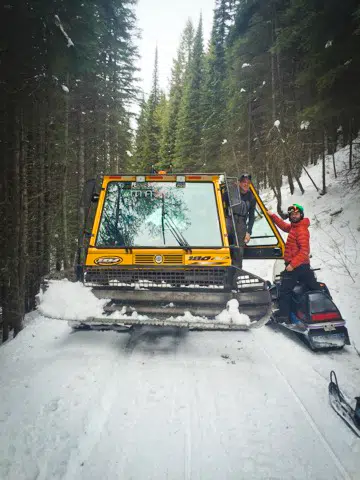 The Fernie Snowmobile Association hopes to raise at least $50,000 to expand their services.
The Association claims they are looking to keep up with increased backcountry traffic and a larger membership.
President Dave Hozjan says improving their snow grooming equipment for over 116 kilometres of trails is the first step.
"80 per cent of our operation is the trail maintenance and grooming and that starts with acquisition of a new high performance groomer for the area," Hozjan says. "It will allow us to double our grooming capacity, because that seems to be the area of highest criticism with our efforts."
He claims snowmobiling generates about one million dollars in tourist revenue locally.
"The riding in the Fernie area has gained in popularity, our membership has grown exponentially every year as well," Hozjan says. "From last year, we're up by 60 or 70 per cent. With more riders and more people using our trail systems come higher demands, more costs and higher expected deliverables from our membership and trail users."
The FSA has already raised over $8,000 toward their goal.
Hozjan says they hope to secure the funding before winter.
(Photo of an FSA snow groomer from the Fernie Snowmobile Association)
– Fernie Snowmobile Association President, Dave Hozjan
– Jeff Johnson