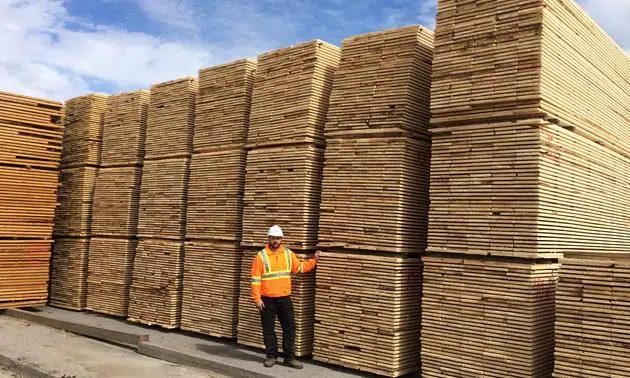 A local lumber mill hopes whoever forms government in BC makes the US understand how devastating their new tariffs are for the forestry industry.
Galloway Lumber Manager Bud Nelson is speaking a day after BC NDP leader John Horgan toured his facility and promised to reach a better settlement with their American counterparts.
Washington recently imposed 20 percent tariffs on Canadian softwood lumber.
Nelson suggests that's a major blow to their bottom line and will make it difficult to make ends meet down the road.
He admits it remains to be seen how exactly the duty increase will affect his workforce.
Galloway Lumber has been a mill town since the 1920s and is located between Elko and Jaffray.
Nelson says currently they fortunate a lot of their business relies on producing rig mat for the oil patch in Alberta.
He explains it diverts a lot of product from the US, however over the long term they do need to depend on their neighbours south of the border for a certain amount of business.
Horgan said during his visit the softwood lumber dispute is a critical issue for the East Kootenay and that's why he came to our region first.
The top New Democrat is expected to be named the next Premier of British Columbia as the BC Liberals will likely lose a confidence vote in the legislature this week.
The BC NDP and Green Party reached an historic agreement following the May 9th election that would oust the Liberal minority from government.
The Liberals earned 43 seats in the May 9th election, while the NDP and Greens have a combined 44.
– Galloway Lumber Manager Bud Nelson
(Courtesy of www.ilma.com)