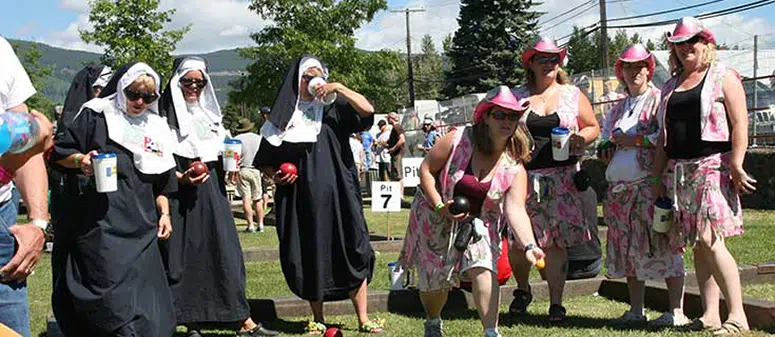 New location, same great fun.
The 45th annual JulyFest goes in Kimberley this weekend.
The community's flagship event features the Canadian Bocce Championship, Classic Soccer Tournament, and Homecoming Parade.
Coordinator Karen Rempel they have new additions this year as well with 50/50 draws, a raffle and of course…the new site.
The event is shifting from Rotary Park beside the Civic Centre to Coronation Park.
Rempel says the so-called "Best of the Fests" has lasted so long because of the community spirit that lifts it up every year.
She believes everyone marks this on their calendar as an opportunity to see old friends and loved-ones as the event brings in thousands of people, a lot of them former residents of the area.
And of course, there's the bocce. 182 teams are registered for the Bocce tournament, made up of Men's, Women's and Mixed teams.
Volleyball is also returning to the festival and will take place alongside the bocce pits in Coronation Park.
A softball tournament is set at Rotary Park and the extreme downhill longboard race starts at Selkirk Secondary School Sunday.
Kimberley Chamber of Commerce Manager Mike Guarnery says a major thank you is deserve to their Board of Directors and the endless lineup of volunteers who show up every year to make this event happen.
Guarnery also points out they are licensed to serve alcohol in cans this year, preventing the use of 20,000 plastic cups. Opening ceremonies take place at Coronation Park 4 PM Friday afternoon and live entertainment will take the stage throughout the weekend.
For a full schedule go here.
– 2017 JulyFest Coordinator Karen Rempel
(photo courtesy of www.kimberleyjulyfest.com)
– Josh Hoffman