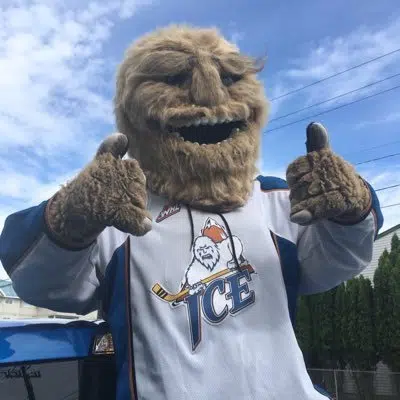 New owners, new logo, new jerseys, and now a new mascot.
Our furry friend with the Kootenay ICE is getting a fresh new look for the upcoming season.
Mascot Shivers is shedding his fur and throwing out his clothes and wants fan input on what his next look should be.
Brant Hilton from the ICE is speaking on behalf of Shivers who refused to provide a comment due to his lack of vocal ability.
"Shivers is getting a little old, he's skipping out on some workouts this summer and his dedication to the preparation for the upcoming season isn't quite where it needs to be so we figured a makeover is in order for Shivers." explains Hilton.
Hilton says the ICE want community input on a possible re-naming of the mascot and a new jersey number as well as help choosing colours for fur.
"They have until about July 27th to voice their opinions so do so if you want to shape the future of Shivers." says Hilton.
To voice your suggestions simply post to Facebook or Twitter with the hashtag #SaveShivers.
– Brant Hilton, Kootenay ICE Communications and Community Manager
– Devin Howard