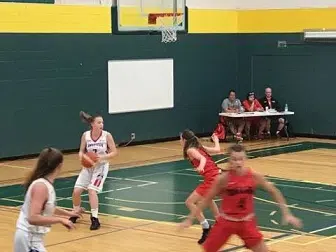 A young Cranbrook girl is hitting the court on a national stage this week in Regina.
Kiara Ker and the rest of the best U-15 basketball players BC has to offer are dueling against the best teams across the country.
Ker – who is only 13 – says playing against girls a year older has really elevated her game.
"I'm taking in every opportunity I get." says Ker. "It's such a learning experience and I know what I need to do for next year so it's very good for my game time and how I play as a basketball player."
Although the team has struggled out of the gate, Ker says they are improving with every possession.
"We've [learned] so much, we've made so many mistakes and we're going to learn from that, we're going to grow from that experience." explains Ker. "We're just going to come back out in the games that actually mean something to make us go towards the finals."
The girls dropped their first two games 79-39 to Ontario and 74-27 to Quebec but are looking to bounce back against Manitoba on Wednesday.
– Kiara Ker, Team BC guard