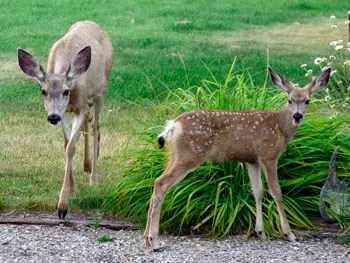 A Kimberley councillor says its time the Province takes responsibility for urban deer.
Al Hoglund was the only member of city council to vote against allocating 100 thousand dollars to potentially remove up to 200 deer over the next two years.
He says the animals are supposed to be managed by the BC Government, but taxpayer money is being spent.
"I understand that if they do something special for Kimberley, then they are going to have to do it for everybody else," Hoglund says. "Regardless in saying that, the deer are still the province's concern, whether it be Kimberley, Elkford, Cranbrook or wherever, its their problem, not the municipalities."
He claims the Province has been shifting the cost of deer management onto municipalities for years.
"I'm a firm believer that its time the Province stepped up to the plate," Hoglund says. "I think we as a city have proved everything that we did can work and I just don't think the taxpayer should be on the hook to look after the province's deer."
Hoglund has spoke against funding culls and translocation since Kimberley began pursuing deer management efforts in 2011.
Back in September 2015, the province announced it would make 100 thousand dollars a year available for municipalities to deal with urban deer.
The city budgeted just under 67 hundred dollars for wild animal control this year.
– Kimberley Councillor Al Hoglund
– Jeff Johnson