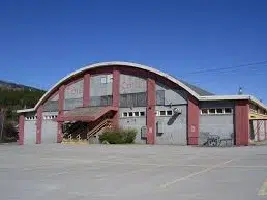 The City of Kimberley wants to open the doors of the Civic Centre to all members of the community.
Council is seeking an Enabling Accessibility Fund grant to install new doors for wheelchair access, a timberframe overhang and a concrete ramp.
Economic Development Officer Kevin Wilson says the project would provide a seperate entry for seniors and people with disabilities.
"Hauling up that double set of concrete stairs at the front is not the easiest way to access what should be a community facility," Wilson says. "So we want to make sure its inclusive for veterans, for seniors, for other folks with mobility needs. I think its pretty important to the community."
The project would see a ramp built leading to a double wide electronic door on the east side of the arena near Rotary Park.
The timberframe overhang would improve safety by decreasing ice on the walkway.
Wilson says they want all residents to be able to use the facility.
"While its possible for folks with mobility challenges to enter there, there are still barriers," Wilson says. "The door has got to be opened from inside the building. Second, the overhang is a poor design. Water drips off the overhang onto all sides of the entrance, so in the winter, there's ice build-up."
The total cost of the project would be just under 35 thousand dollars.
A successful grant application could help cover a third of that cost.
– City of Kimberley Economic Development Officer, Kevin Wilson
– Jeff Johnson