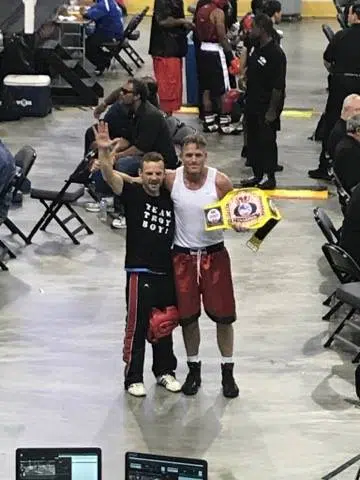 Two local boxers are bringing belts back to Cranbrook after a successful weekend at the 2017 Ringside World Championships in Independence, Missouri.
Tom White defeated Paul Sanchez Soto for his belt in his Mens Masters 35-99 division.
Troy Bannick claimed victory in his Mens Masters 35-99 division defeating Ron Harris.
White says it felt good to push himself to his limits in the ring.
"That's the adrenaline rush that I think you crave or you search, you want to feel again from when you were younger." says White. "You're facing your fears, you've got something standing right in front of you who's a lot bigger."
He reflects on his fight saying he was beat up after the first round but was ready to go and ultimately won the fight.
"[I] come back fighting extremely in fear but I fought well." says White. I'm very happy with the way I fought, I was in tough and I think I apmed it up."
White adds the feeling hasn't sunk in yet but he's proud to bring the hardware back to the Key City.
This is also the second straight year Bannick has taken a belt home from the tournament.
The Cranbrook Eagles boxing club plans to have a full team go to the event for next year.
– Tom White