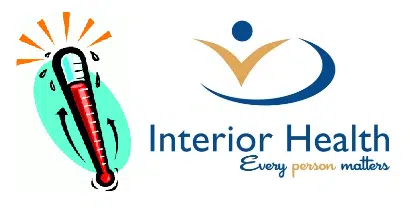 Interior Health is urging residents to stay cool as a heat wave continues to push through the parts of the region including the East Kootenay.
The agency says too much time in the hot weather can lead to weakness, disorientation, exhaustion and even heat stroke.
IH also says children under four, seniors, those who work outside and people with heart or lung problems are most at risk.
Dr. Sue Pollock says symptoms to watch for include pale and moist skin, muscle cramping and fatigue.
"As the heat-related illness increases in intensity then they may start to experience things like confusion, disorientation, even hallucinations." says Dr. Pollock. "This can lead to seizures and decreased consciousness."
Dr. Pollock says there are many things people need to keep in mind in order to stay safe in the heat.
"I would recommend that if they're doing outdoor activity they do that before 11 AM or after 4 PM." explains Dr. Pollock. "With children it's very, very important that they not be left in a parked car because the temperatures in those cars can rise very extremely and just in general wearing sunscreen, avoiding getting sunburnt and wearing lightweight, loose-fitting clothing."
This past July was the third hottest the East Kootenay has seen in 116 years according to Environment Canada.
– Dr. Sue Pollock, Interior Health Medical Health Officer