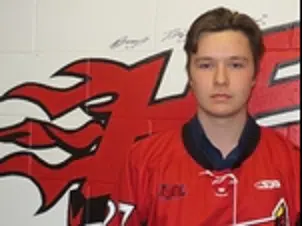 The Fernie Ghostriders will have a new body stopping pucks this upcoming season.
Riders GM & head coach Craig Mohr hopes their new goalie can spend more time in the crease and less on the injured reserve.
Goaltenders in Fernie have had trouble staying healthy in recent seasons but 19-year old Zak Larson has been acquired to put an end to the curse.
Larson spent last season with the Chase Heat and posted a 3.51 GAA and .901 save percentage in 14 regular season games.
"At the end of the day it all comes down to your performance on the ice but we felt strongly enough with Zak that we could make the move." explains Mohr. "The plan is for him and [Brandon Youngson] to have a bit of a 1A-1B kind of scenario."
"We kind of learned that you never know when injuries can strike you so you better have two goalies that are capable of stopping pucks and that's the reason we went and made this move."
Fernie also picked up defenceman Brent Headon from the Nelson Leafs over the summer as well as veteran winger Jace Woodley from Sicamous.
The Riders get main camp started on August 25th followed by their first exhibition game in Invermere on the 29th.
– Craig Mohr, Fernie Ghostriders GM & head coach