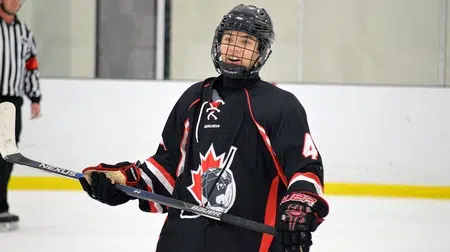 We are into the dog days of summer but the Kootenay ICE's top pick from the 2017 Bantam Draft is taking no days off.
Connor McClennon has been working hard this off-season to get faster and stronger than he already is.
"This summer I've been training with Adam Huxley who runs a workout program here in Wainwright." says McClennon. "Being a smaller community it's kind of nice having him around or else I would have to drive an hour to go skate or go to the gym."
The 15-year old will be playing Midget Prep in Edmonton this season for the Northern Alberta Xtreme.
McClennon will be eligible to play five games this season with the Kootenay ICE.
He says he's beyond excited to take the next step in his hockey career.
"It's obviously a pretty cool feeling, pretty surreal." says McClennon. "Always dreaming to play or even having your name called so it's just the start but it's already pretty cool."
The 5'8″ 154 lb. forward posted a whopping 115 points in only 35 games with the Pursuit of Excellence Bantam Prep team last season.
– Connor McClennon, Kootenay ICE prospect
(Photo courtesy of BC Hockey Hub)