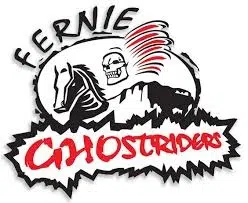 The Fernie Ghostriders have been busy collecting young talent for the upcoming season.
The team topped up in every category by adding winger Jace Woodley, defenceman Brent Headon and goaltender Zak Larson.
Head coach and GM Craig Mohr says the team is heading into the season with one goal in mind.
"You always look to want to win your division because then once you get into that conference [final] and league final you never know what can happen." says Mohr. "I expect nothing different, I think we're going to have a real tough division again and we're going to be slugging it out with the other four teams in our division and it's going to be lots of fun."
Mohr says he expects the Eddie Mountain teams to be beating on each other in the standings all season long.
"It's a tough division." says Mohr. "Our division has been maybe the best one in the last few years so I expect nothing different."
The Riders finished last season with 16 wins, 15 losses and one tie against division opponents.
The team also finished third last season with a 26-18-1 record and was beat out by the Dynamiters in the first round.
The regular season kicks off September 8th with a trip to Grand Forks to take on the Border Bruins.
– Craig Mohr, Fernie Ghostriders GM & Head Coach