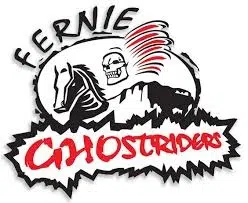 The Fernie Ghostriders are confident they will take a step forward this year after a great main camp.
Head coach Craig Mohr says he was most impressed with some of the young talents they signed over the offseason.
He explains the veterans all came into camp in great shape as well.
"A few of them have lost quite a bit of weight from last year." says Mohr. "That's a always a good sign of leadership when your veterans show up and you can tell just by looking at them that they put the work in over the summer to get their bodies and their minds ready to go for the season."
Mohr says they held scrimmages throughout the weekend to test players' hockey IQ and situational play.
He adds the pre-season games against Columbia Valley will be a great help in evaluating who will be on the roster to start the campaign.
"It's priceless, as they say." says Mohr. "It's a great measuring tool for us; seeing how they interact on the bench, seeing how they interact in situations out there on the ice."
The Riders also announced forward Mitch Titus as Captain for the 2017-18 season.
Fernie paid a visit to the Eddie Mountain Memorial Arena in Invermere last night where they lost 8-2 against the Columbia Valley Rockies in their first exhibition game.
– Craig Mohr, Fernie Ghostriders Head Coach