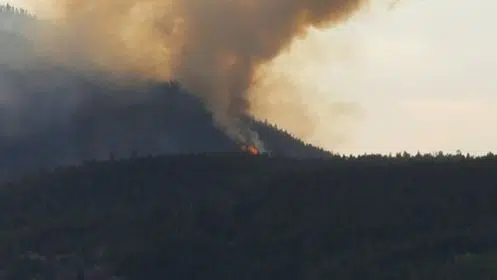 The wildfire burning just outside Moyie has been resized to 60 hectares.
The BC Wildfire Service estimated the Lamb Creek blaze to be up to 100 hectares Tuesday but a more accurate mapping of the fire shows it is actually smaller.
34 personnel, six pieces of heavy equipment and three helicopters are on site and airtankers are being used when visibility is good enough.
Crews are working to establish a guard on the north side of the fire and efforts from the air will continue to extinguish any hotspots.
The fire is 0% contained.
The Southeast Fire Centre's Karlie Shaughnessy says all watercraft are still restricted from Moyie Lake including boats, kayaks and paddle boards.
This is for public safety and to allow firefighting aircraft plenty of room to maneuver and do their job safely.
Boaters not obeying the restriction could be fined $1,150.
Meanwhile, the Linklater Creek wildfire roughly 18 kilometres south of Newgate is still burning on both sides of the border.
The fire is nearly 650 hectares in total size with 30 hectares of that on the Canadian side.
Meanwhile, four new wildfires have started throughout the region, including a100 hectare blaze that erupted Tuesday northeast of Fairmont Hot Springs.
– Southeast Fire Centre Information Officer Karlie Shaughnessy