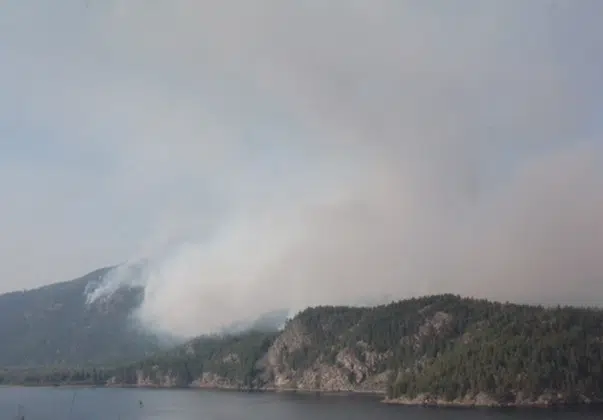 BC Wildfires Crews are dealing with difficult terrain when it comes to the Lamb Creek Wildfire near Moyie.
50 personnel, three helicopters and 14 pieces of heavy equipment were used in Monday's efforts.
The blaze climbed to 1,400 hectares this weekend as the wind direction changed allowing it to spread two kilometres south.
It is currently 2.5 kilometres northwest of Moyie and 18 kilometres southwest of Cranbrook.
Almost 400 properties remain under Evacuation Order due to the fire.
Southeast Fire Centre Information Officer Tracy Wynnyk says there's volatile fuel sources in the south/southwest side area the wildfire is burning.
Wynnyk explains the fire is also producing a lot of smoke and variable winds are challenging crews and leading to increased activity over the long weekend.
She says hopefully they'll get a reprieve in the coming days to but they'll have to see what the forecast officers.
The Linklater Fire that crossed the border from Montana last week now covers over 760 hectares on the Canadian side.
This is the blaze threatening properties in the Newgate – West Koocanusa area – as it burns roughly 18 kilometres away.
The St. Mary's Wildfire 14 kilometres northwest of Cranbrook is almost 400 hectares but is 76 per cent contained.
Monday, crews were successful in establishing a wet line around the perimeter of the blaze.
– Southeast Fire Centre Information Officer Tracy Wynnyk