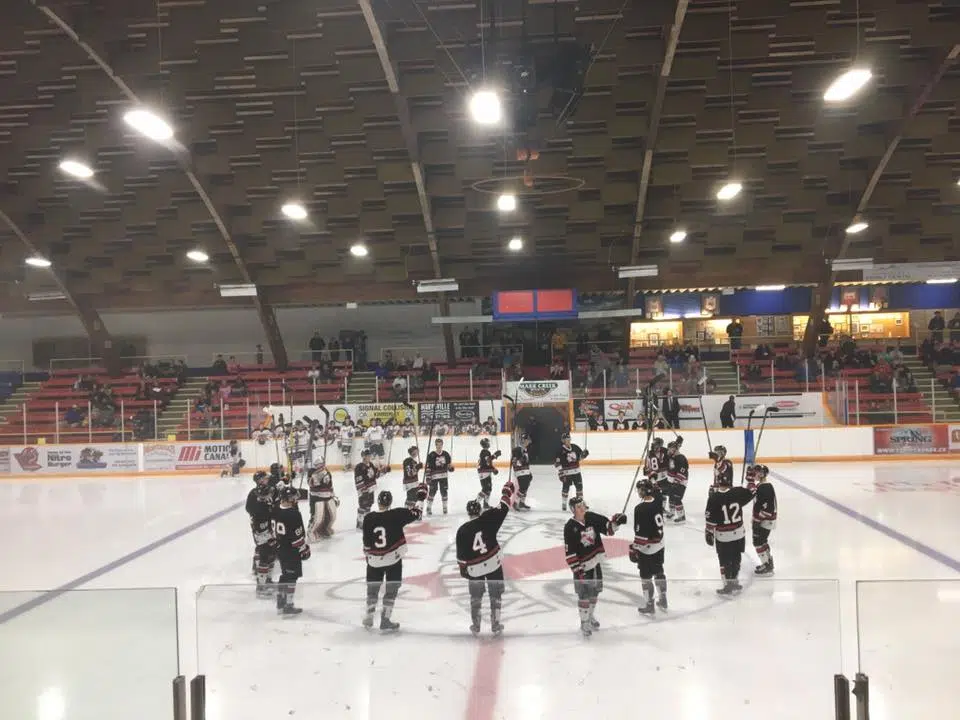 The Kimberley Dynamiters kicked off their 2017-2018 campaign with back-to-back wins over the weekend.
The Nitros opened at home against the Columbia Valley Rockies Friday night where they exploded offensively in the third to earn a 6-1 victory.
Veteran defenceman Mason Palaga opened the scoring mid-way through the first off a bullet from the point that blew past Rockies goaltender Ben Kelsch.
Palaga continued to dominate offensively from the blue line all game long adding an assist in the second period and two more goals in the third.
Head Coach Derek Stuart says he was extremely impressed with Palaga's slap shot.
"We knew what we were getting in terms of his ability to skate, be a leader and play defence." says Stuart. "I hadn't really witnessed his shot that many times… but he's got a very hard shot."
Palaga's four point night including a hat trick in his Kimberley debut was good enough to earn star of the game for the Dynamiters.
"This is my third team that I've played on for a season opener and by far this is the best gelled team." says Palaga. "It was amazing to watch, this is really good for step one."
Palaga says getting a hat trick in his Kimberley debut in front of a huge crowd of 773 fans felt unbelievable.
"I've never played in a crowd like this in my whole life." says the 6'2, 210 pound defender. "It was absolutely amazing, I can't even express how nice it felt."
The Nitros were four for nine (44.4%) on the power play and were rock solid on the penalty kill shutting down Columbia Valley in all seven power play opportunities.
Austin Hope had a two goal night for Kimberley while Matt Davies picked up a pair of assists and Nicholas Ketola had a two-point night as well.
The Dynamiters travelled to Nelson on Saturday to take on a rough and tough Leafs squad.
After being heavily outshout in the first ten minutes of the game Cam Russell sniped one over the shoulder of Leafs goaltender Quinn Yeager to open the scoring.
Brock Palmer added an insurance goal in the third that proved enough to secure the victory.
Both teams were silenced on the power play in a game where the Nitros had 86 penalty minutes and the Leafs had 53.
"After the first seven or eight minutes we realized that's [Nelson]'s team, they're physical and they're big." says Coach Stuart. "They try and intimidate you and try and wear you down and get ugly goals."
Broc Merkl stood on his head in his KIJHL debut stopping 33 of 34 shots.
"He was absolutely outstanding." says Stuart. "Without his effort we definitely would have lost that game, for sure."
Merkl made numerous cross-crease saves in the third period when the Leafs had multiple 5-on-3 opportunities and outshot Kimberley 12-3.
"[In those situations] technique kind of goes out the window a little bit." said Merkl, wearing his well-deserved hard hat signifying the hardest-working player of the game. "You've got to do whatever it takes to make the save and it worked out."
Kimberley is the only team standing undefeated in the Eddie Mountain Division after opening weekend.
The Fernie Ghostriders picked up a single point after a 3-2 double overtime loss in Grand Forks Friday and a 6-0 rout at the hands of Beaver Valley Nite Hawks the next night.
Fernie stood their ground in a physical back and forth tilt with the Border Bruins, but it was a fluke goal during 3 vs. 3 action that lifted Grand Forks to victory.
However, the Riders blew a flat in Fruitvale Saturday being shutout by the defending champion Nite Hawks.
The Nitros are back in action next weekend in Fruitvale to take on the defending Cyclone Taylor Cup Champion Beaver Valley Nitehawks.
– Derek Stuart, Kimberley Dynamiters Head Coach, post-game interview vs. Columbia Valley Rockies
– Mason Palaga, Kimberley Dynamiters Defenceman, post-game interview vs. Columbia Valley Rockies
– Derek Stuart, Kimberley Dynamiters Head Coach, post-game interview vs. Nelson Leafs
– Broc Merkl, Kimberley Dynamiters Goaltender, post-game interview vs. Nelson Leafs