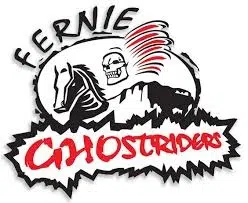 The Fernie Ghostriders know what they need to work on following a winless opening weekend.
The Riders earned a single point in a 3-2 double overtime loss to the Grand Forks Border Bruins on Friday night.
Fernie was outscored and outplayed the following night in Fruitvale where they were shutout 6-0 by the Beaver Valley Nitehawks.
Head Coach Craig Mohr was able to draw positives from the weekend although he belives there's work to be done aswell.
"We're getting our chances off a lot of forechecks [and] a lot of scrambles because we're really working hard." says Mohr. "I think we've got to get some work done on our attack in the offensive zone."
He adds they are just going to hit the reset button and be ready to compete next weekend.
"We had a pretty good chat at the end of the [Beaver Valley] game." says Mohr. "I remember coming into this rink earlier in the year and beating Beaver Valley 8-1; it wasn't the end of the world and this isn't the end of the world either."
The Ghostriders are back in action next weekend when they visit Nelson to take on the Leafs.
– Craig Mohr, Fernie Ghostriders Head Coach