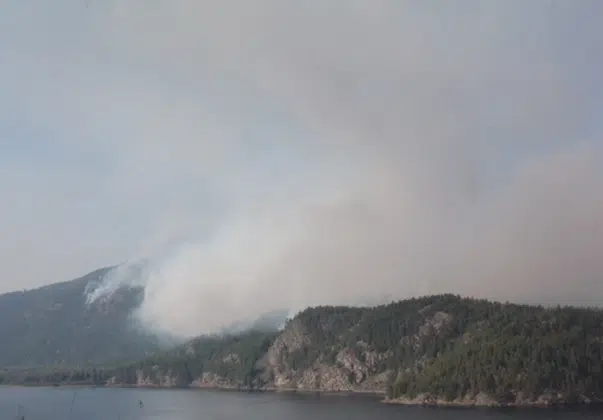 The BC Wildfire Service is throwing its largest amount of resources at the Lamb Creek Wildfire yet.
The blaze, which has 400 properties around Moyie still under an Evacuation Order, has grown to 1,978 hectares (HA).
Fire Information Officer Jameson Mailloux, who has been designated on the Lamb Creek incident, says they have 110 ground personnel, four aircraft and 21 pieces of heavy equipment are on site Tuesday.
Crews successfully burned off fuel sources between guard lines and the fire.
Guard lines have been set up around the entire perimeter of the fire.
Personnel on the ground will continue removing sources on the southeast flank with hand ignitions.
Increased smoke will be visible from Moyie.
Air tankers and helicopters may be used throughout the day to cool the fire, allowing ground crews and heavy equipment to continue to reinforce guard lines.
The Canadian military will be conducting a training exercise Tuesday afternoon in the vicinity of the Lamb Creek fire.
You may see a Griffin helicopter flying, landing or taking off in the Moyie area.
The intent of this planned operation is to exercise their communications capabilities.
Mailloux wants to remind motorists on Highway 3 to be diligent when driving through the Moyie area and adhere to all the no-stop zones currently in place.