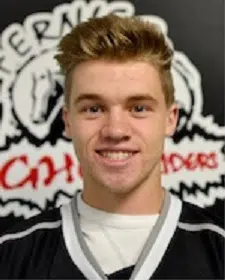 Great honour comes with great responsibility for the newest Fernie Ghostriders captain.
Mitch Titus says it's a major compliment to be handed the 'C' in his third year with the Riders.
"It's an honour for sure to have the captaincy for the Fernie Ghostriders." says Titus. "It's a big role to fill, I've found throughout the years there's been a lot of great captains. It's a big responsibility from what they guys think of me and what the coach thinks of me, definitely great things to come."
He says it's going to be important to get off to a good start this year.
"A lot of people think the first couple games are whatever and we'll beat them in Febraury [but] in the standings these games still count and they're big games to win still."
The Riders dropped their first two games of the season 3-2 to Grand Forks in double OT and 6-0 to Beaver Valley.
He says the rookies coming in this year are exeptional and is looking forward to helping them develop into strong junior hockey players.
The 5'7″ forward posted 55 points in 52 games with Fernie last year.
Titus has 88 points in 120 career KIJHL games.
– Mitch Titus, Fernie Ghostriders Captain