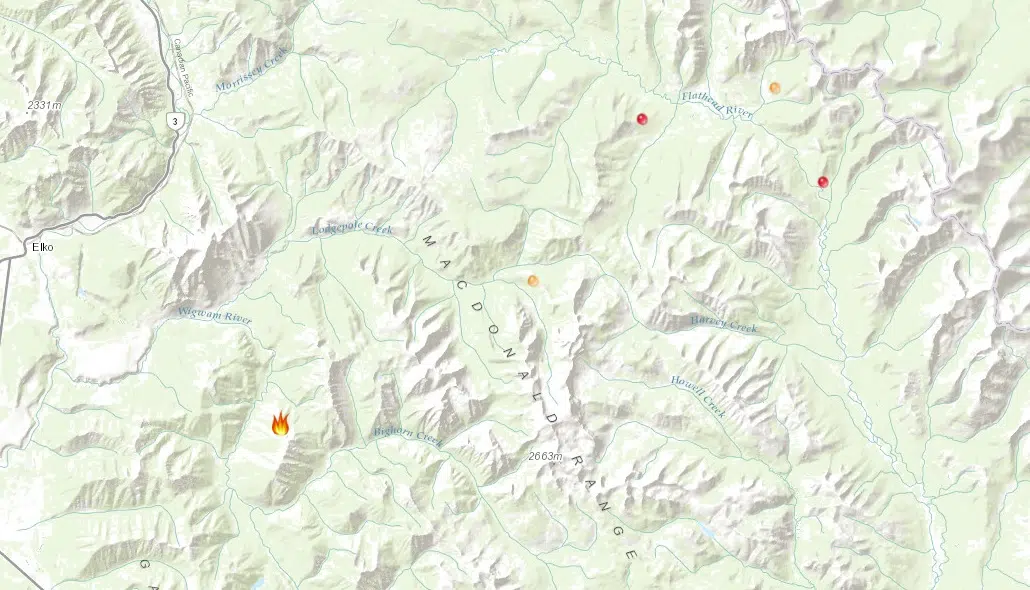 An Incident Management Team is on its way to take over the series of wildfires burning in Flathead area east of Elko.
Fire Information Officer Donna MacPherson says a camp should be established and serving crews dinner by Friday night.
Crews spent Tuesday and Wednesday clearing away brush to make space for the operation.
MacPherson says the team will look at up to six fires in the Flathead area and determine which ones have the most potential to threaten nearby communities and structures.
The largest in the area is the Soowa Mountain fire which is estimated at 4,277 hectares as of Thursday morning.
The blaze has been burning along Soowa Mountain, predominately northward, and is visible to the community of Elko and Highway 3.
Structural protection is in place on one cabin not immediately threatened by this fire but flames are currently not a threat to the community of Elko or Highway 3.
Macpherson adds initial attack crews have beeen successful in patrols.
Personnel were repositioned Wednesday in an effort to prevent embers from igniting new flames northwest of the fire, between it and Elko.
MacPherson says they previously didn't have a large presence on the fires because there was no workable ground.
The Southeast Fire Centre previously told The Drive that crews were pulled off the nearby Lodgepole wildfire due to safety concerns.
– Fire Information Officer Donna MacPherson