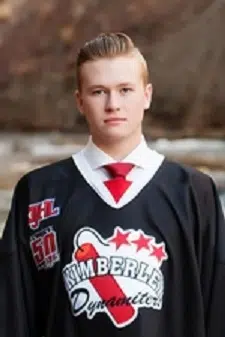 Last season's goaltender for the Kimberley Dynamiters is back for another year with the club.
Cody Campbell is returning to the Nitros for a second year after spending the last couple weeks at Junior A camp with the Calgary Mustangs.
Campbell says he had a great camp but believes his best option was coming back to the Bavarian City.
"I thought for the future of my hockey career and where my personal goals are Kimberley was the best path for me to get to where I wanted to go." says Campbell.
Campbell is looking forward to being a leader for rookies goalies Adam Andersen and Broc Merkl who are now battling for back-up.
"Surprisingly, all the way until now I've never played with a younger goalie and I'm really excited to have whoever is going to be playing with me as a tandem because I feel like I have a lot to offer experice-wise." says Campbell. "I'd love to try and groom the next guy into a guy that can start for this team in the future."
He hopes playing with the Nitros this year will provide him an opportunity to play collegiate-level hockey next year.
– Cody Campbell, Kimberley Dynamiters Goaltender