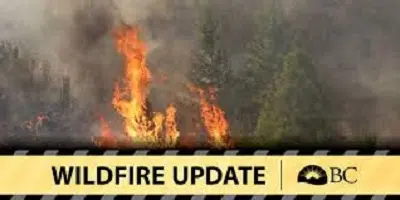 The 2,094 hectare Lamb Creek wildfire is 30 per cent contained.
Crews continue to make progress on the blaze with 175 fire fighters, five helicopters, and 21 pieces of heavy equipment on site Friday.
As the BC Wildfire Service make headway, the RDEK has decided to partially downgrade the Evacuation Order for the Moyie area.
The Soowa Mountain fire east of Elko is estimated at 58 hundred hectares.
An Incident Management Team is taking over efforts against flames in the Flathead area including the Soowa Mountain blaze.
The BC Wildfire Service says recent weather has helped with their efforts and kept fire activity to a minimum.