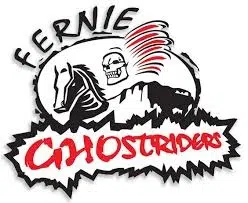 The Fernie Ghostriders are shaking things up after opening the season with four straight losses.
The winless Riders have parted ways with Jon Wick, Chase Gregory and Jordan Popoff.
Wick was sent to Spokane, Gregory is with Fort St. John of the North West Alberta Junior League and Popoff is now a Golden Rocket.
Chase Rayman was also released by the club but Head Coach Craig Mohr says he will be their top affiliate forward for the remainder of the season.
Returning to Fernie is 19-year old left winger Keelan Saworski who opened his season in the Manitoba Junior League.
Saworski had 15 points in 21 games with the Ghostriders last season.
Mohr says 1997-born defenceman Grayson Neufeld will also be joining the team from the Yorkton Terriers.
"He will be rolling in from Saskatchewan [Monday]." says Mohr. "We're getting more pieces put into place."
Neufeld has 13 points and 133 penalty minutes in 88 career KIJHL games over the past two years with the Grand Forks Border Bruins.
Fernie has started their season with a 3-2 double-OT loss to Grand Forks, a 6-0 shutout loss to Beaver Valley, a 12-3 blowout in Nelson and a 6-2 rout at the hands of the Spokane Braves.
The Ghostriders host Golden on Friday for their home opener at the Fernie Memorial Arena.
– Craig Mohr, Fernie Ghostriders Head Coach