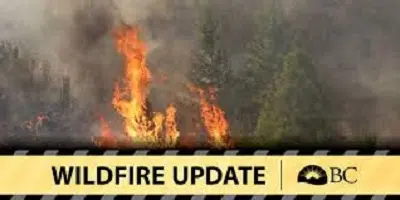 Structural protection equipment is beginning to be removed as crews continue to make progress on the Lamb Creek wildfire near Moyie.
The BC Wildfire Service says the 2,094 hectare (HA) blaze is now 35 per cent contained.
They had 136 personnel on site Sunday with 21 pieces of heavy equipment, and four helicopters and additional air support when required.
Green Bay, Monroe Lake, Braunagel Road, Moyie Shores Estates and Aurora Estates remain on Evacuation ORDER.The east side of Moyie Lake is under an Evacuation Alert after the Regional District downgraded an Evacuation Order Friday.
The RDEK says they continue to talk to the BC Wildfire Service and reassess the remaining Evacuation Order.
Meanwhile, An Incident Management Team has assumed authority for the six fires in the Flathead area east of Elko.The Camp currently has 105 firefighters and 20 support staff, with more on the way.
The biggest fire in the area is the Soowa Mountain blaze which is estimated at 4,300 HA.
There have been no significant changes to the Quinn Creek wildfire southwest of Elkford or the Linklater blaze south of Newgate.
The Quinn Creek fire is estimated at over 11,700 HA while the Linklater fire, which is largely burning in the US, covers 1,285 HA of Canadian soil.
The White River Complex northwest of Elkford 25,400 hectares (the size decrease is due to more accurate mapping) and is 80% contained.
There are 203 firefighters, 9 Danger Tree Fallers/Assessors, 15 pieces of heavy equipment and 4 helicopters working along with the Incident Management Team and support staff today.
The evacuation ALERT for the Whiteswan Area remains in place after being downgraded from an Evacuation Order over the weekend.