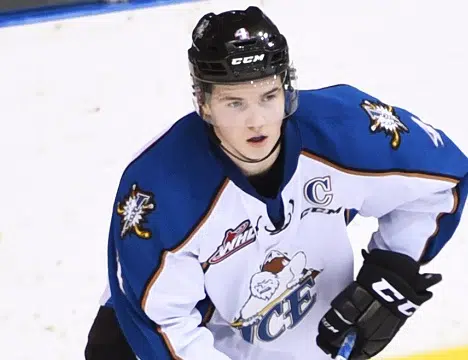 The returning captain for the Kootenay ICE wants to be a guy that leads by example.
Cale Fleury had a busy summer being drafted by the Montreal Canadiens and spending time with the NHL club at development and rookie camps.
The 18-year old defenceman is ready to apply what he's learned over the past couple of years and help the young core of Kootenay develop into skilled and smart hockey players.
He says even though there's a ton of new faces on the ICE, he's confident everyone will gel together quickly.
"I think everybody likes each other on the team and I think we're going to have good chemistry in the room for sure." says Fleury. "I think as time goes on we'll be really good on the ice too."
Fleury adds it was great to get things clicking against division rivals Lethbridge and Calgary over the weekend.
"Pre-season matters." says Fleury. "It just kind of gets you a little bit of confidence going into the season against those guys, we [have] to play them a lot so might as well get used to beating them."
The Kootenay captain says following the NHL Draft, NHL camps and the WHL pre-season it feels great to finally focus in on the success of the ICE.
"Ever since the start of last year and even the summer before that it was just all about the draft." explains Fleury. "Now that it kind of settled down I can just focus on this season."
The 6'1″, 201-pound blue liner posted 38 points in 70 games with the ICE last year.
The Drive and B104 asked Fleury if he had any goals for the upcoming season.
"I want our team to make the playoffs."
– Cale Fleury, Kootenay ICE captain
(Photo courtesy of Kootenay ICE)