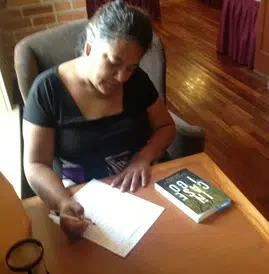 A candidate in Cranbrook's upcoming byelection says the most important aspects of democracy are inclusion and representation.
Anna Sam Hudson, who ran in the 2014 Municipal Election, is one of the eight names that will be on the October 21st ballot.
She says she has over 18 years of experience teaching and researching public administration, law and governance.
She is currently in the final year of training to be a Certified Lands Manager through the National Association of Aboriginal Land Managers.
Hudson, who says she's a proud member of the Ktunaxa Nation, says her slogan "My democracy includes YOU" poses a fundamental question.
Do your levels of government represent  the people they govern?Hudson says its important to ask do we have any indigenous people on council or do we have any members from this territory on council.
She says it's a question of representation.
Hudson is a so-called Sixties Scoop.
The term refers to the practice of taking children of Aboriginal peoples in Canada from their families for placing in foster homes or adoption.
It began in the 1960s and continued until the late 1980s.
Hudson was born in the Sam family but adopted into the Hudson family.
She says it took her until her 40s to reconcile her place in both worlds.
Her policy priorities include maintaining and improving Cranbrook's infrastructure, while building our local economy.
She adds tourism, hospitality, accessible cycling routes, and enhancing dog parks are important issues to her as well.
The Drive FM will be sharing profiles on each of the candidates this week.
See previous profiles:
– Cranbrook City Councillor candidate Anna Sam Hudson