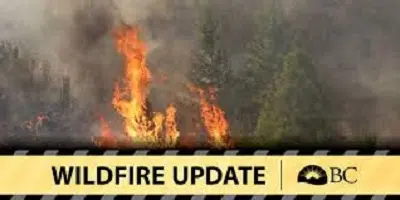 Crews are continuing to make significant headway on the Lamb Creek wildfire near Moyie as fire behaviour quiets down.
Cooler weather has helped personnel contain 80 per cent of the 2,215 hectare (HA) blaze.
149 firefighters, two helicopters and four pieces of heavy equipment were on site Wednesday.
The BC Wildfire Service says they understand this area is well known for its elk hunting and would like to remind anyone going hunting that crews are still actively working on this fire and ask that they please be cautious and stay out the vicinity of the fire.
Meanwhile, the 26,399 HA White River fire burning in a remote area northwest of Elkford is 90 per cent contained.
East of Elko, guards are still being built around the 5,800 hundred HA Soowa Mountain fire.
There has been minimal growth on the Canadian portion of the Linklater wildfire south of Newgate.
It's estimated to be burning nearly 1,300 HA on our side of the border.
A new 322 HA blaze burning northwest of Kimberley is being monitored.