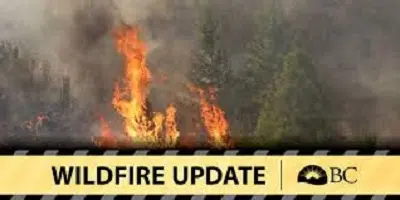 The Majority of the wildfires in the Flathead area southeast of Fernie are in the mop up stages.
This from the Southeast Fire Centre's Karlie Shaughnessy as fire activity continues to decrease in the East Kootenay.
Shaughnessy says crews continue to make progress on up to six blazes in the Flathead area, including the 5,800 hectare (HA) Soowa Mountain fire.
The Lamb Creek wildfire near Moyie is more than 2,200 HA but is still 80 per cent contained and is being held by crews.
The White River blaze east of Canal Flats is 26,000 HA in size and continues to affect forest service roads in the area.
Shaughnessy says a total of 49 fires are still active throughout the Southeast Fire Centre and it's hard to predict when those may be extinguished.
She explains it is not unusual for crews to be working into October, and weather will be a major factor in when they are able to pull personnel.
To date, 363 wildfires have burned approximately 86,942 HA throughout our District.
278 of those fires were lightning caused, and the rest were started by humans.
The five year average for this time of year is 317 and 4,750 HA.
The total number of hectares burned this year is still shy of the all time record set in 2003, which saw 87,782 HA burned.
There were 11 Evacuation Alerts and four Evacuation Orders issued through the season.
Across the province, 1.2 million hectares have burned shattering the previous record set in 1958 of 856,000 HA.
In total, the BC Government has spent $544 million on wildfire relief efforts so far.
– Fire Information Officer Karlie Shaughnessy