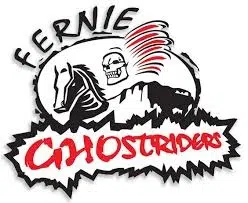 Rookie goaltender Broc Merkl is thankful for the opportunity with the Fernie Ghostriders.
Merkl was released by the Kimberley Dynamiters last week after the return of veteran netminder Cody Campbell.
The 18-year old played one game with the Nitros where he stopped 33 of 34 shots in a 2-1 win over Nelson.
He says he almost ended up playing in Alberta until he got the call from Riders Head Coach Craig Mohr last week.
"I was pretty happy, this is where I started actually in main camp in the fall and it's kind of cool to end up back up here." says Merkl. "Close to home, family, friends so definitely happy to be here."
Merkl will start Friday against Beaver Valley and says having one KI game under his belt helps him mentally.
"That's a confidence builder now that I know I can compete at the level I did against Nelson I know that I can definitely handle Beaver Valley and do my best." says Merkl.
The 6-foot puck stopper says he's going to take every opportunity to help get the team back on track after the Ghostriders started the season 1-4.
– Broc Merkl, Fernie Ghostriders goaltender