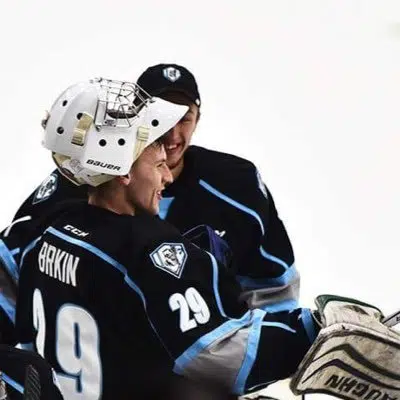 Kootenay ICE netminder Bailey Brkin has shaken the nerves of playing in the WHL after two solid games between the pipes.
Brkin was in the Kootenay crease in both games against the Calgary Hitmen stopping 63 of 68 shots (.937 SV%).
He explains his confidence level shot up after a near perfect performance in his first WHL game.
"I kind of almost proved to myself that I could play in this league and do well by that first game." says Brkin. "It was the same team [the next day] so I knew I could stop those shots that are coming at me. I could stop guys like Matteo Gennaro who [was a] 30-plus goal scorer last year."
Brkin credited his defence for helping him keep the Hitmen scoring to a minimum.
"They've probably taken away five goals away five goals that Calgary could have scored in the past two games." explains the Kootenay puck-stopper. "Honestly they've been a huge help and even with little things like playing the puck they've helped me tremendously."
He adds it's important to play well all year but it's especially crucial to get in a groove early.
Head Coach James Patrick says Brkin gave the ICE a chance to win in both games against Calgary.
"I just thought he played real solid, his puck handling was real good, he was pretty calm back there." says Patrick.
Patrick says there's a good chance both Brkin and Kurtis Chapman will get a look in their three games this upcoming weekend against Spokane and Edmonton but they are taking things one game at a time.
– Bailey Brkin, Kootenay ICE Goaltender
– James Patrick, Kootenay ICE Head Coach
(Photo courtesy of @BaileyBrkin Twitter)