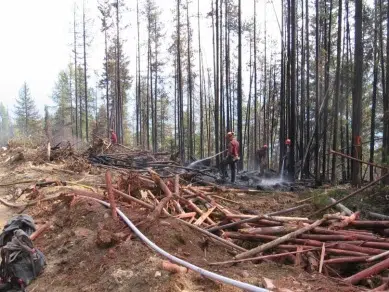 Wildsight wants to make sure so called salvage logging doesn't destroy local ecosystems.
The local conservation group met with specialists from Canfor, and Provincial biologists Wednesday to discuss what kind of management is needed in our region.
The practice is done after wildfires burn through an area and local companies are starting as this summer's fire season winds down.
Director John Bergenske says they appreciate industry and government aren't going to walk away from all the wood left in these burn areas.
He says however, what they need to do is find a balance to ensure ecosystems don't suffer long-term negative effects.
Bergenske says, in the past, salvage logging has done significant damage to to fish and wildlife habitat.
The concern is it prevents natural ecosystem recovery and increases erosion, and soil compaction – leading to potential larger floods.
Another concern is with the public and logging companies re-entering these areas it could lead to the spread of invasive species.
This has become a significant issue in the East Kootenay according to Bergenske.
Wildsight says in fire dependent ecosystems, which are all over the Kootenays, wildfires actually help rejuvenate important habitats for elk, deer and bighorn sheep.
– Wildsight Conservation Director John Bergenske