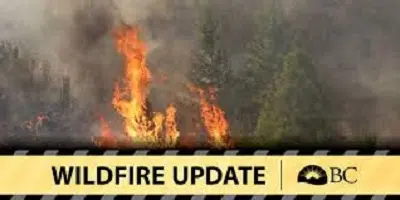 The focus of BC Wildfire Service crews working in the East Kootenay has shifted from response to rehabilitation.
The Southeast Fire Centre's Karlie Shaughnessy say the majority of the Incident Management Teams assigned to fires in the region have been sent home.
She says the fire danger rating has decreased significantly in the region.
Shaughnessy explains rehabilitation is the restorative treatment of landscape exposed to fire suppression efforts.
This could involve evaluating area for erosion concern, reseeding, and returning fire guards to their natural state.
Shaughnessy adds most of the fires in the East Kootenay are under control or being held.
The 2,200 hectare (HA) Lamb Creek wildfire near Moyie is still 80 per cent contained.
The 26,000 HA White River blaze east of Canal Flats is 90 per cent contained.
The 5,800 HA Soowa Mountain blaze east of Elko continues to burn in a remote area.
Shaughnessy previously told us it's hard to predict when all of the local blazes may be extinguished as there are up to six still burning in the Flathead area southeast of Fernie.
There are a total of six Wildfires of Note still burning throughout the Southeast Fire Centre.
Category 2 and 3 fires, which are fires larger than 0.5 metres by 0.5 metres, remain prohibited in the East Kootenay.
– Fire Information Officer Karlie Shaughnessy