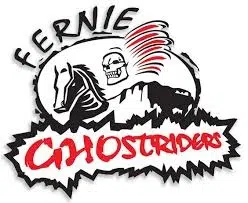 Consistency will be key for the Fernie Ghostriders moving forward.
This from Head Coach Craig Mohr as the Riders have been a streaky team through one month of play.
Fernie faltered in both games last weekend after winning three straight and opening the season on a four-game losing streak.
Mohr explains it will take time for the young team to find its footing.
"I'm not overly surprised that we're a little bit inconsistent right now but we're a month into the season now so that's something we [need to] lock down is our consistency." says Mohr. "You're not going to win every game, you're not going to lose every game but you [need to] come prepared for every game."
Mohr says they need to be able to play all three periods in order to stay competitive.
"They're not dumb in there, they know when they don't play 60 minutes or they come out flat." explains Mohr. "As a coach you can work with them on that, it's kind of a team concept, not really an individual thing."
The Riders currently sit fourth in the Eddie Mountain Division, seven points behind the rival first place Kimberley Dynamiters.
Fernie is back in action Friday against Columbia Valley at the Elkford Arena.
– Craig Mohr, Fernie Ghostriders Head Coach