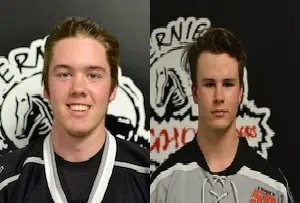 Two Fernie Ghostriders will be playing in front of their home crowd Friday night.
Kyle Haugo and Jake Beranek will both be in the lineup against the Columbia Valley Rockies in Elkford.
Haugo says this will be his second time playing in his hometown with the Riders.
"When I thought about playing with Fernie it never really crossed my mind that I would ever get to play in Elkford with them but when the opportunity came around it was a great experience." says Haugo.
The 19-year old says he's lived in the same house in Elkford for his entire life.
Haugo says communication will be key tonight against the Rockies.
"Make our passes, make the easy play and hit lots and we should be good to go." says Haugo.
The Ghostriders lost to the Rockies 7-4 in Fernie last weekend and will be looking for a bounce back performance.
Meanwhile the Kimberley Dynamiters are home against the Grand Forks Border Bruins.
Both teams are leading their respective divisions and Kimberley will seek revenge after falling to the Bruins 4-2 last weekend in Grand Forks.
The Creston Valley Thunder Cats are also on home ice against the Spokane Braves.
– Kyle Haugo, Fernie Ghostriders defenceman, Elkford resident