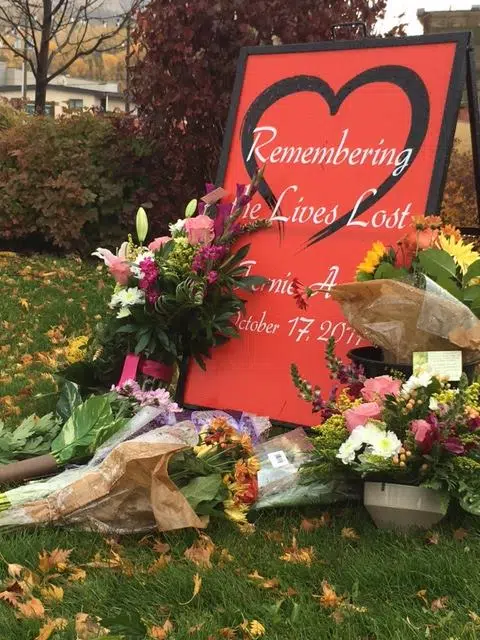 Officials says the Fernie Memorial Arena is still too unstable for any additional entry at this time.
Investigators have not been able to access the building to begin a full assessment after three people were killed by a suspected ammonia leak Tuesday.
A so-called pressure vessel is expected to arrive Friday night.
The vehicle can remove ammonia from the facility and dispose of the chemical properly.
The evacuation order for roughly 95 people remains in effect and authorities want to remind residents the importance of abiding the restriction.
Officials still have little to no idea of what led to the fatal incident this week.
Mayor Mary Giuliano addressed the public Friday after the identifies of the three victims was released.
The BC Coroners Service confirmed 59 year old Wayne Hornquist, 52 year old Lloyd Smith (both of Fernie) and 46 year old Jason Podloski of Calgary were involved in the workplace incident.
Giuliano said at a press conference it's been an incredibly difficult week for everyone and talked about the victims.
The Mayor remembered Hornquist as someone who was  "our guy for everything" and "had a reputation of giving his all to his job".
Hornquist started with the City in 1992 and Giuliano said how happy she was to award him with the 25 years of service recognition recently.
She said Hornquist, who was born and raised in Fernie, was a family man who proudly watched his daughters figure skate.
He claimed to be the best Zamboni driver around and Giuliano added his daughters confirmed he was.
She said Smith was someone who "made a profound impact on the community" and was always committed to his job and moving the city forward.
Giuliano said his family described him as "a giant rolling stone that picked up everything a long his way".
Smith, who was also a pilot, paramedic and two time iron man competitor, started with the City in 2015.
Statements from Smith's family members were also read at the press conference, including one from his 13 year old son.
The statement said they can't express in words the loss of his dad who touched many lives during his time.
A State of Emergency and evacuation order remain in effect.
Giuliano also wanted share her condolences to the family of Podloski who was a contractor from Alberta but had connections to Fernie.
 (Photo courtesy of Facebook//City of Fernie)