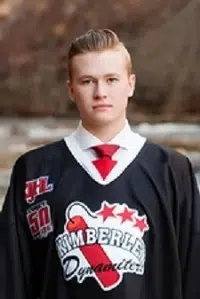 Being able to work as a single unit has created a comfortable gap between the Kimberley Dynamiters (12-2-0-0) and the rest of the Eddie Mountain Division.
Kimberley has stretched the margin between themselves and the second place Creston Valley Thunder Cats (6-5-1-0) to 11 points.
The Nitros beat Spokane 3-1 on Friday and trounced Golden 7-0 on Saturday.
Goaltender Cody Campbell says he's never seen the team so coherent this early on in the season.
"We're very confident that we can keep this going." said Campbell following his second shutout of the season on Saturday. "We've got a positive group in there and a great coaching staff to keep us where we need to be."
On top of their weekend sweep Kimberley also edged the Nelson Leafs 2-1 in overtime last Thursday.
Campbell says winning three games in three days isn't usually easy this early on.
"It's a lot all at once and I think a lot of guys haven't really experienced it [before]." says Campbell. "But it just shows that even after 180 minutes plus we still show up and do what we need to do."
Campbell currently sits third in the league in goals against average (1.74) and save percentage (.938) and holds a 7-1 record on the season.
The 19-year old netminder says he felt great on Saturday night.
"Guys were keeping lanes open for me [and] I was seeing pucks pretty good."
Rookie forward Brock Palmer continues to impress adding five points over the weekend to increase his total to 24 pts. in 13 games.
Veteran Matt Davies also put up five points to put his season total up to 23 pts. in 14 games.
The Nitros will take their five game winning streak on the road next weekend against the Castlegar Rebels (7-5-0-1-0) on Friday and the Spokane Braves (3-10-1-2) on Saturday.
– Cody Campbell, Kimberley Dynamiters goaltender