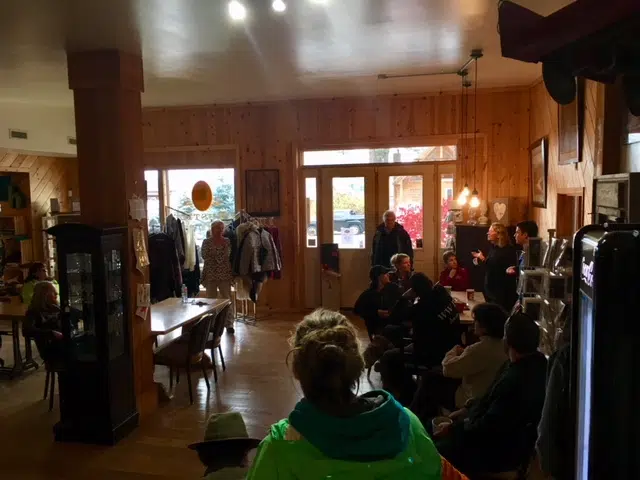 Kimberley residents for and against a proposed industrial development squabbled over the weekend.
Advanced technology company Sullivan Machine Works wants to expand their Calgary-based business to the local Marysville Bench Lands.
Public forums organized by City Councillor Bev Middlebrook and the proponent were held Friday and Saturday.
Some members of the community want the 24 acre space to stay recreational while others are excited about the idea of big business coming to town.
Nova Ragan has lived in Kimberley for nearly 20 years and says younger generations want their children to have opportunities to stay local and flourish.
Ragan suggests it's "old-school" residents who are afraid of new industry change and potential growth.
She adds anyone who is upset this company wants to set up on a piece of lands currently being used for recreation should just look to the large number of other trails the area offers.
However, Kathy Smith says if the development is allowed, it will take away one of her favorite parts of the community.
Smith, who was born and raised in the Bavarian City and moved back to retire, says she works five days a week and looks forward to walking out her front door and visiting the bench lands every weekend.
She notes seeing a family take portraits earlier in the day and if industry arrives it will remove the picturesque location.
Many simply oppose any development on the specific, beloved, location.
Others argue industry should be centralized in one location and call on the city to plan for this.
Katie Kirkconnell believes for Kimberley to thrive it needs primary industry.
She suggests tourism doesn't carry the city through the entire year and if there was a more stable industrial base it would benefit all local business.
Local business owner Mike Honeyman says he understands both sides of the argument and he'll support Council on whatever decision they make.
Honeyman admits he would love to purchase some of the land for his own company.
He says if that was a possibility he would work with Council and residents to build a facility that doesn't significantly effect recreation or views.
However, the local electrical contractor asserts creating animosity between each other is not good for the community in any way.
After much of Saturday's public forum saw attendees trying to speak over one another, Honeyman says when you come together and scream at each other it doesn't solve anything but instead create more problems.
City Council is expected to vote on whether or not to designate the bench lands for industrial development Monday night.
The City previously said the Marysville bench lands is one of two properties their shopping for industrial development.
The other is 15 acre lot in the City's existing Industrial Park.
Much of the industrial land around Kimberley is owned by Teck Resources Limited and is contaminated.
– Resident Nova Ragan

– Resident Kathy Smith

– Resident Katie Kirkconnell

– Resident Mike Honeyman