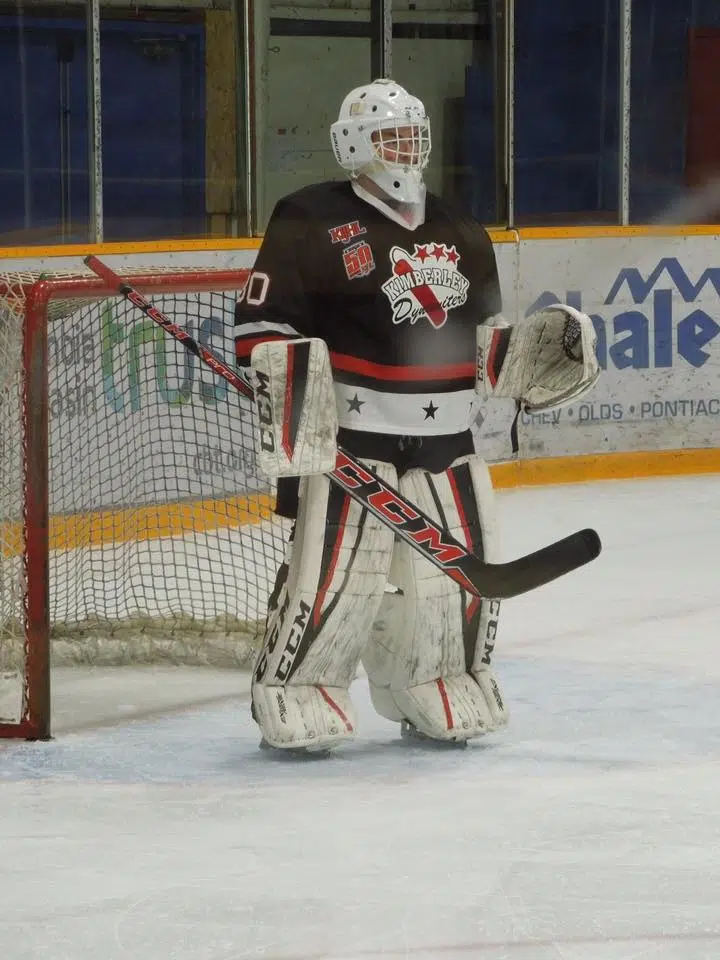 Kimberley Dynamiters rookie goaltender Adam Andersen is living out his childhood dream.
Raised in Kimberley since he was six months old, Andersen says he's been watching the Nitros since the ripe age of four.
"To grow up here and play for the team I've always cheered for, it's definitely something that's come true for me and I couldn't be happier right now, it's really cool, I love it."
The 17-year old explains he looked up to former Dynamiter goalies Jeremy Mousseau and Tyson Brouwer gowing up.
Mousseau – also a Kimberley native – spent time with the Dynamiters from 2010 to 2013.
Brouwer was the man between the pipes when Kimberley was crowed KIJHL Champions in the 2014-2015 season.
"[Brouwer] lived with me one summer [and] I spent a lot of time with him during one of the playoff runs." recalls Andersen. "He taught me a lot and that was a little bit different because with him I was a little bit older and trying to move on [so] when I was with him he taught me a lot of the things I know now."
Andersen currently backs up one of the KIJHL's best netminders in Cody Campbell and says they've formed a great relationship.
"It's just little things like TV timeouts or whatever it is, you just go talk to him and he's a guy that I can always go to." says Andersen. "To have someone like him, it's huge for sure, I couldn't be happier to have him there."
The Kimberley kid says his fondest memory to this point was his debut with the Dynamiters last December against Columbia Valley.
Andersen led the team to victory stopping 21 of 23 Rockies shots in a 4-2 win.
"That was something that will always be with me for sure." says Andersen. "To play at home in my first game was really cool…I remember being down to 3-2 in the last five minutes and it was a really cool game. I think there was almost 800 people there that night…it couldn't have been better."
While he says he would love to take the next step in his hockey career some day, Andersen says he's more than happy to represent his hometown as a Kimberley Dynamiter.
– Adam Andersen, Kimberley Dynamiters goaltender
(Photo courtesy of Kimberley Dynamiters)