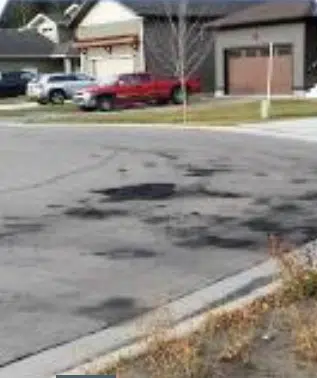 Sparwood is concerned with what it says is a growing number of dirty trucks leaving the mine  and tracking coal into the community.
The District says
deposits are being left behind on local roads, private driveways and parking lots.
Mayor Cal McDougall says as they desposits dry out they become windborne dust that blows into homes and businesses.
Coal that is deposited on roads and driveways also ends up entering the aquatic ecosystems through stormwater runoff, which can impact aquatic life in our creeks and rivers.
Sparwood is reviewing its bylaws to potentially increase fines for those who do not comply with cleaning their trucks.
The District can currently hand out a range of different fines between $100 and $500 but will be reviewing all bylaws.
The Mayor indicates they'll look at all possibilities of enforcement.
McDougall asks rhetorically if they can go after the vehicle owner, homeowner, or even the mine?
He adds they've been working with Teck Resources on dust issues for many years and he's optimistic they'll continue to cooperate to find a solution.
 Teck's Elkview Operation is three kilometres outside of the community.
Teck says it realizes dust from it's Elk Valley mines is a major concern to nearby communities and spent 2017 investigating practices to manage sources.
Sparwood says if you observe a vehicle dropping coal debris or other materials, you can take a picture of the vehicle, including the licence plate, and forward it to the District along with your name and contact information and the date, time and location of offence.
The complaint information you provide will be treated as confidential and used to help District staff to take appropriate action with the vehicle owner, operator and/or the mining or mining support company.
Complaint information can be submitted electronically to bleo@sparwood.ca or online at www.sparwood.ca/service-request, or it can be dropped off at the District Office (or mailed) at 136 Spruce Avenue, Box 520, Sparwood, BC V0B 2G0.
– Sparwood Mayor Cal McDougall