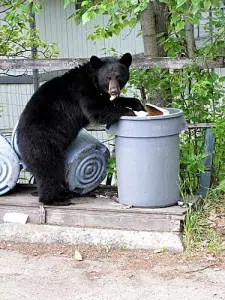 Columbia Valley RCMP has identified their suspect in a case of mischief to a vehicle…he has four paws, a long snout and had an empty stomach.
Mounties were called to a Windermere property last week after a complaint of a break-in to a vehicle.
The owner told police someone removed the truck bed cover overnight and took a bag of garbage.
Officers used to their cunning detective skills to detect fresh bear paw prints in the morning frost and fur left on the vehicle.
RCMP found the garbage bag torn apart in a back yard but the suspect remains at large.
In another matter, officers learned of a bear cub stuck in a residential Fairmont Hot Springs dumpster Thursday.
As a crowd looked on, police found a small latter and were able to put it into the garbage bin.
The cub was able to escape and reunite with its mother and sibling who were watching from a nearby tree.