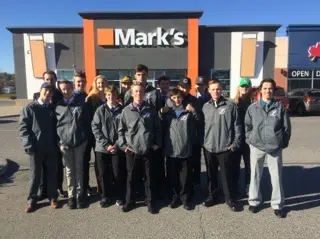 A minor hockey team in Cranbrook wants to make sure everyone stays warm through the winter.
The Key City Lightning midget team recently bought winter clothes to donate to Operation Street Angel.
The team purchased gloves, socks, sleeping bags, long johns and groceries with everything going directly to the local organization.
Forward Lisa du Toit says they're challenging other teams in Cranbrook to pay it forward.
"We've challenged the [Cranbrook] Atom 'A' Jets." says du Toit. "We think that it's important to challenge people because it's like [doing] one good thing and pass it along, one good thing and pass it along, then more people will do good things in the world."
Manager Bobby-Jo Hekob says they hope this starts a chain reaction.
"We are fortunate enough to be able to have fundraisers and look after our kids but there's kids and families out there that don't have the same opportunity." explains Hekob. "Instead of it being unbalanced, it's better to give when you have a little bit extra."
Operation Street Angel is a local non-profit outreach and advocacy program that brings awareness to poverty issues in the area and is home to many services for the poor including daily dinners, showers and much more.
The team says they wanted to do more than just donate money and hope this sparks a trend of more teams giving back to their communities.
– Lisa du Toit, Key City Lightning Midget Tier III forward
– Bobby-Jo Hekob, Key City Lightning Midget Tier III Team Manager