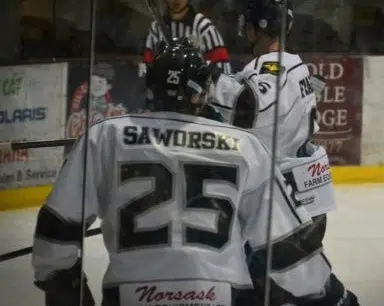 Keelan Saworski has played eight games with the Fernie Ghostriders this year, and he's produced points in every one.
Saworski added to his total in Fernie's return to action last weekend where he chipped in for two goals in the Riders 5-2 victory over Creston.
The 19-year old played in Fernie last season and re-joined the team in late September when he was released from Swan Valley Junior A in Manitoba.
He says he's happy with all aspects of his game so far this season.
"I'm really just making sure that I make the smart and right play all the time." says Saworski. "Just not trying to be too fancy with the puck."
Saworski credits his linemates Mitch Titus and Brendan Nemes for the majority of his success.
"Without them I probably wouldn't [have] nine goals and 13 points in eight games." says Saworski. "[Titus] is a quick guy who always gives the puck at the right time and Nemes is kind of like that grinder who's always finishing his checks."
The Regina, Saskatchewan native was also named Fernie Ghostriders October Player of the Month.
Last month Saworski set the goal of putting 30 pucks in the net this year and says that's still the number he wants to reach.
The Riders are back in action Saturday in Fruitvale playing the Beaver Valley Nitehawks.
Here's a look at Saworski's production through eight games (via KIJHL):
– Keelan Saworski, Fernie Ghostriders forward