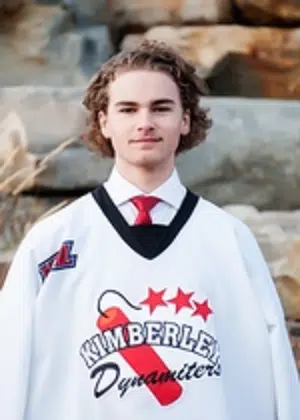 Kimberley Dynamiters forward Matt Davies is the KIJHL Kootenay Conference Player of the Month.
Davies caught fire in October earning 16 points in just seven games.
The 19-year old is currently riding an eight-game point streak dating back to September 30th.
The Airdire, Alberta native has put up 10 points in the last four games alone.
He says his line with Brock Palmer and Nicholas Ketola was clicking all month.
"We were all moving the puck really well and things were king of going our way." says Davies. "It worked out pretty well."
He explains he did a lot of off-ice training in the offseason and he's already seeing results.
"I just worked on keeping my feet moving, getting my speed up and also putting on some muscle." explains Davies. "it's been helping me out a lot this year and I hope to continue that."
Brock Palmer was an honourable mention for KIJHL Kootenay Conference Player of the Month posting seven goals and 11 assists in nine October games as a rookie.
Palmer and Davies are ranked first and third respectively in Eddie Mountain Division scoring.
The Dynamiters continue to lead the Eddie Mountain Division comfortably as they carry a 16-3-0-0 record into November.
– Matt Davies, Kimberley Dynamiters forward