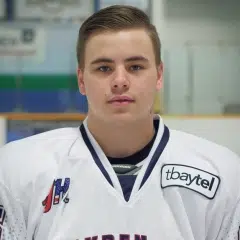 Bryce McDonald is the newest Kimberley Dynamiter.
The 19-year old had his rights traded to the Nitros from the Kamloops Storm Sunday.
McDonald spent the beginning of the year with the Dryden Ice Dogs of the Superior Junior 'A' League.
Head Coach Derek Stuart says the veteran forward has a large presence on the ice.
"He's got an excellent shot, he can put the puck in the net and he's a big, strong kid." says Stuart. "He's 185 pounds, almost six feet so I think he can add a little bit of physicality but also some offensive contributions as well."
Stuart says McDonald wanted to return to BC after being traded from Dryden to French River and requested a trade to the Nitros.
"He wanted to come back home and start school here in Cranbrook as well so it worked out for us." says Stuart. "Kamloops was very accomodating in terms of getting a deal done so it worked out well."
McDonald had 14 points in 14 games with the Ice Dogs before being traded.
He also has 47 points in 75 career KIJHL games with Sicamous, Golden and Kamloops.
The Kamloops native is expected to make his Dynamiters debut Saturday when Kimberley welcomes Beaver Valley.
– Derek Stuart, Kimberley Dynamiters Head Coach